Alinket Wi-Fi 6 series products help the medical device industry meeting new market opportunities
Issuing time:2022-01-27 10:11
In 2019, the market scale of the globalmedical device industry exceeded US $500 billion, of which the outsourcingmarket has also exceeded US $200 billion. With its combination with digital technology,the scale of global medical devices will develop at an unprecedented speed inthe future.
Facing the tide of the development ofdigital economy, the medical and health industry is undergoing great changesunder the influence of digital economy. The development of digital medicalindustry is based on the current medical ecology. Digital medical system shouldfirst digitize the system, then break through the barriers between variousparts of the system, realize value through data again, and finally optimizeservices. Wireless communication plays an important role in the digitizationprocess of the industry, opening up the data path between the equipment and theupper network.
Since its birth, Alinket technology hasbeen deeply engaged in the medical field. Its products have cooperated withmany well-known medical device manufacturers at home and abroad to provide themwith high-standard, high-performance and reliable equipment wireless solutions.In 2022, Alinket products will be upgraded across the board to help equipmentmanufacturers upgrade their products and realize the wireless transformation ofold equipment with Wi Fi 6 technology with faster speed, lower delay, largercapacity, higher security and lower power consumption.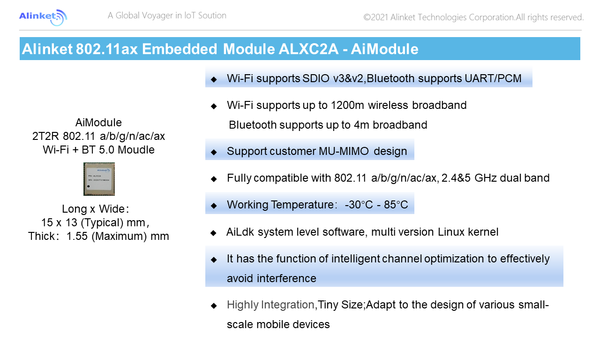 Alinket ALXC2A Moudle
Alinket ALX856B Controller
Alinket ALXB16i Network Bridge
Alinket WSP26 Wireless Switch
Alinket DGW426 Mobile Data Gateway