For production equipment such as CNC machine tools, it is essential to monitor the equipment's operating status, operating environment data, and predict and identify equipment failures in real time and accurately during the production process. In order to meet the trend of industrial applications and meet the needs of industrial scenarios, Alinket has released the industrial-grade edge computing gateway ALXE10B.
It has the advantages of massive data and heterogeneous connections in edge computing,high realtime business, data optimization, information security protection, edge intelligence and cloud collaboration. Can be widely used in CNC machine tools, industrial robots, unmanned vehicles and other factory field equipment realtime monitoring and wireless network access scenarios.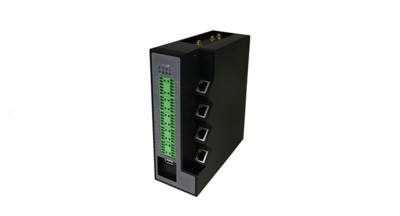 Industrial design
The size of the Alinket ALXE10B is 65mm * 150mm * 180mm, and it adopts a rugged and wear-resistant metal casing. The storage temperature is -30 ℃ ~ + 85 ℃, which guarantees that the ALXE10B can adapt to different harsh environments.
Rich interface
Multi-channel RJ45, 485, 232, CAN serial port access design, support multiple DI, DO, Relay interfaces at the same time, to ensure that ALXE10B can meet the needs of various types of industrial sensor acquisition and equipment interaction.
Multiple communication methods for efficient transmission
The data is uploaded to the storage platform in real time, supporting multiple communication methods such as ETH, Wi-Fi, 4G, etc., to meet the needs of remote communication in different environments.
Compatible with multiple protocols
In order to meet the interaction needs of various industrial equipment systems, ALXE10B is compatible with a variety of mainstream industrial real-time Ethernet protocols and industrial bus protocols, and supports the following protocols: OPC UA, Modbus-TCP, Modbus, Modbus-RTU, TCP / IP, etc. Network resources increase system capacity. ALXE10B also supports LwM2M IoT protocol.
Support edge computing
Supports computing scenarios and algorithm customization or big data analysis platform to run machine learning and provide algorithms, which ultimately realizes terminal data processing optimization, creates favorable conditions for edge computing, accelerates the response speed of the system, effectively reduces the amount of data transmitted on the network, and reduces platform services End pressure.
Scalable memory
In addition to supporting local data storage, it also has scalable sata storage capabilities to ensure the storage requirements for auxiliary data related to edge computing.
Remote management
Remote monitoring, configuration, and upgrade of equipment, realizing diagnosis and debugging of field equipment, improving service response speed and fault alarm, etc.
Management platform access
Alinket Technology provides a management platform supporting ALXE10 edge computing products to implement access management and data upload of edge computing box devices, and thus to store historical data.