Alinket smart ward solution realizes the cascading of wards, nursing stations, mobile medical equipment and remote management, allowing patients' needs to be more
quickly transmitted to the medical end and improve medical services.
Cloud remote management
AiCloud platform can be connected to hospital "service robots" and medical equipment. Medical personnel can log in to the cloud platform through terminal devices (computers, tablets, mobile phones, etc.), and can remotely send instructions such as care and medicine to the "service robot" , To remotely view and manage medical device detection data. You can also view patient information, medical care information, medical care scheduling information, monitoring and early warning, etc. through the AiCloud platform.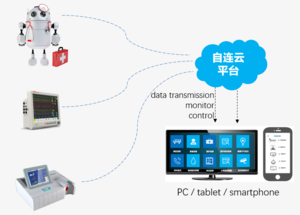 Wireless upgrade of wired medical equipment
For wired connected medical equipment, by usingbridge ALXB10, the equipment can be laid out from lengthy network cables to movable shortline layouts, and ensure that the network is always maintained on the move. For example, it is used in scenes such as monitors that need to follow patients to various diagnosis and treatment areas.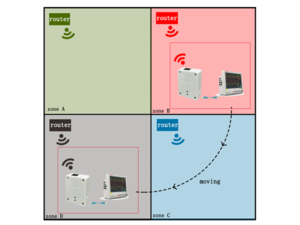 Medical data forwarding to the cloud
Wirelessly connecting medical equipment and wired medical equipment using ALXB10 can be directly connected to the transponder to forward the patient's physical informationto the cloud. Finally, the patient data can be displayed in real time on the electronic whiteboard and medical terminal equipment at the nurse station. Through the positioning tags of the data transponder, it is possible to realize the positioning of medical equipment in the ward, and it is convenient to statistics the equipment usage rate, and the medical equipment cross-boundary alarm.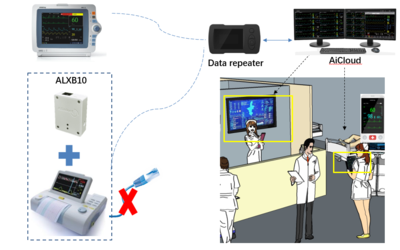 Remote and intelligent monitoring video
For the traditional camera, by using the AiEdgeBox, the AI stream can be output to the
AI, and uploaded to the cloud platform to achieve remote monitoring. For example, the monitoring video of the activity room in the hospital has been upgraded from the original local view to remote view, the statistics of the number of activity rooms and the realization of abnormal warning.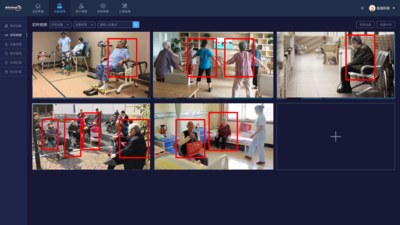 Video consultation
AiCAM intelligent 4K camera can be wirelessly connected to the cloud. No matter how far away the patient is from the medical staff, realtime video consultation can be performed through the TV, cloud platform, and client.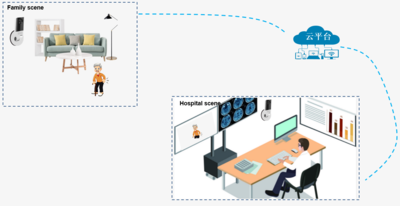 AI function
AiCAM has AI functions such as face recognition, population statistics, and intrusion detection. AI models can be changed on the cloud platform. For example, the face is automatically identified through the associated database, abnormal alarms are reported, and the number of patients and medical staff in the recovery room is counted.