Product Definition

Alinket Acceleration IoT Suite LiteDMS is secure and highly effective automatic-connecting tool body to assist customers quickly develop IoT product and also it is made for customers as IoT permissively connecting tool to reach the objective of all things' connecting. By this way it can propel "Device—LiteDMS—Cloud" bidirectional communications to realize device quickly connecting, cloud management, cloud debugging, data template, real-time online query&analysis, and so on.
Product Application
With LiteDMS, all Alinket-developed hardware IoT modules or devices can be seamlessly connected to AiCloud intelligent cloud or AiDMS middleware system. In order to facilitate the connecting of non-Alinket IoT devices or modules to the Alinket IoT ecosystem, LiteDMS development kit (I/O Kits) has been developed, including but not limited to LiteDMS toolbox, SDK for LiteDMS development, Alinket AiDK, Alinket AiLDK, Alinket AiSDK and other similar software development suite set, all of which can serve the enhancement for the IoT connections or the expanding of the IoT functions.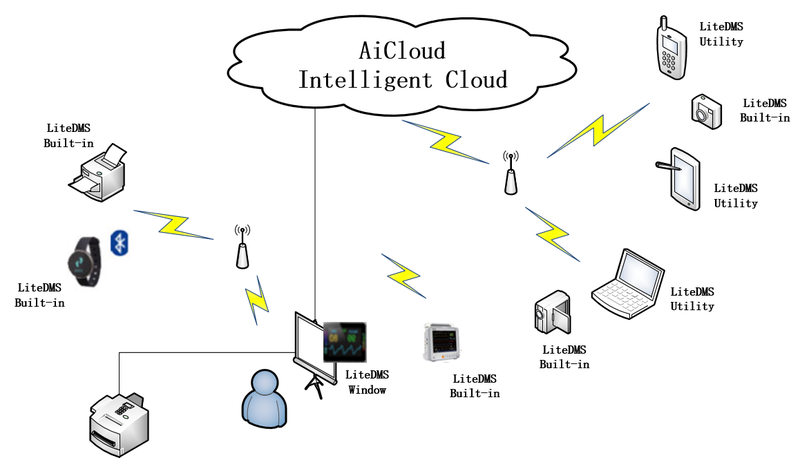 Product Deployment
The following architecture shows the normal solution architecture of Alinket LiteDMS development suite I/O Kits.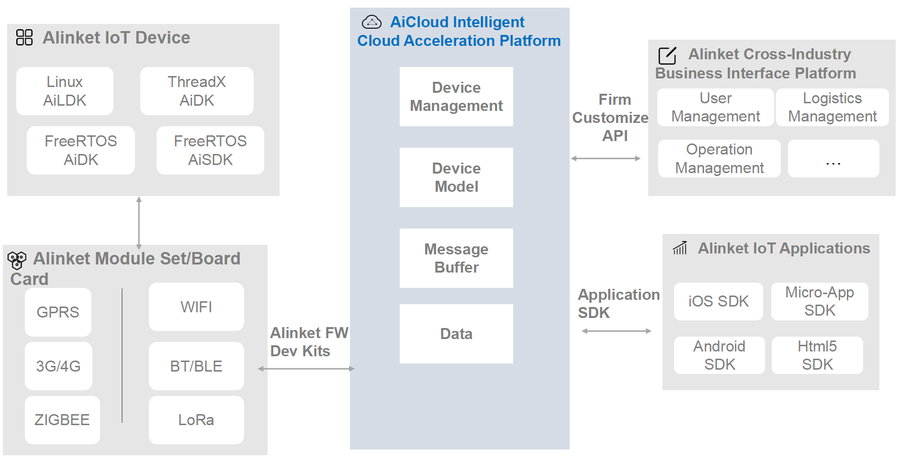 Advantageous Functions
● Accelerate IoT Connection
All kinds of Alinket modules or devices can be seamlessly connected to the Internet of Things, and also other edge devices can be accessible to connect. For various Alinket modules, it is convenient to access them.
● Cross-platform
LiteDMS toolkits can also be deployed to various software systems, such as Windows/Linux/Mac OS/Android/iOS, to achieve the goal of accelerating connection.
● Software Configuration
To be flexible for run-time system, target connected devices.
● Software Licensing
To enable LTS support services for customer satisfaction purposes.
● Client Value-Added Devices
For non-Alinket devices, LiteDMS can help collect valuable parameters of client devices. Or client develop specially needed functions based on LiteDMS I/O Kits.
● LiteDMS Development I/O Kits
With complete I/O Kits, client can enrich "own" LiteDMS utility or develop customized firmware for module or do secondary develop jobs for web/mobile/pc applications.
● Extra Computing
According market continuous changed requirements for near future, LiteDS
utility will enable more and more distributed computing capability.